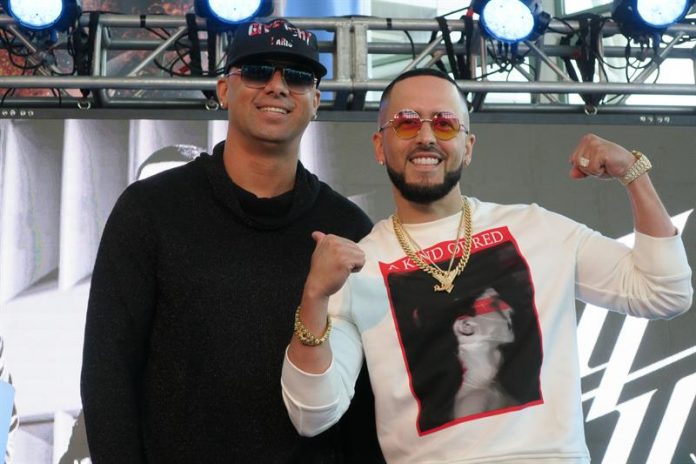 The Puerto Rican musical duo Wisin y Yandel, who today offer the first of eight record performances at the Coliseo de San Juan, announced the greeting of a new album, "Los Campeones del Pueblo / The Big Leagues", which will be available from 14 December and includes collaborations with Bad Bunny or Maluma, among others.
"Los Campeones del Pueblo / The Big Leagues" is the tenth studio album of the duo and the first that they have recorded together since the album "Líderes" (July 3, 2012).
The artists wrote all the songs along with many of their fellow composers such as O'Neill, Gocho, Chris Jeday, Victor Viera Moore and Eduardo Vargas Berrios, among others, according to a statement released by their representative company.
The record was recorded between Cayey (center of Puerto Rico) and Miami (Florida, USA) and includes collaborations with Ozuna, Maluma, Bad Bunny, Miky Woods, Zion & Lennox and Farruko.
The list of songs from the new album "Los Campeones del Pueblo / The Big Leagues" includes: Veo Veo; Reggaeton in the Dark; Callao with Ozuna; Howling with Romeo Santos; Guaya; You have; Give me Something with Bad Bunny; The Light with Maluma; You damage my mind; My Intention with Miky Woods; I told you that it was going to happen; I wish with Zion & Lennox; I remember and hopefully with Farruko.
Tonight Wisin and Yandel present the first concert of the eight hired at the Coliseum, thus establishing a new record of consecutive best-selling concerts in the history of the site.
In the statement Yandel said that both are "two poor guys from Cayey who fought for a dream, we wanted to be artists, at first our genre was marginalized, it was very difficult for us to become famous, but we achieved it and I believe that God It has a purpose, a story for everyone, and for Wisin and Yandel God had a very nice plan. "
"I am very happy that Puerto Rico supports us in this way and we are ready to show all that love to our people through these concerts," he added.
For his part, Wisin added that God "has been merciful to me so we celebrated this with the people of Puerto Rico where we grew up, we came from the same place, always looking at that goal that seemed almost impossible and we are here thanks to Puerto Rico who were the first to believe in us. "
"This weekend and next we are going to celebrate not only this great recognition in Puerto Rico but also we are going to show the world that Puerto Rico can be raised and that we are going to be with family, regardless of social spheres, to see a show of height and return the thanks with a show that surely with the help of God will be the greatest that Wisin and Yandel have done so far, "he added.
Both announced earlier this year that they would meet to offer new music and the "Como Antes" tour.
Their first concert took place in March at the Altos de Chavón Amphitheater in the Dominican Republic, in the month of June they performed at Madison Square Garden and this week and next week will be presented eight nights at the Coliseo de Puerto Rico, breaking the record of concert sales in said arena. (EFEUSA) .-