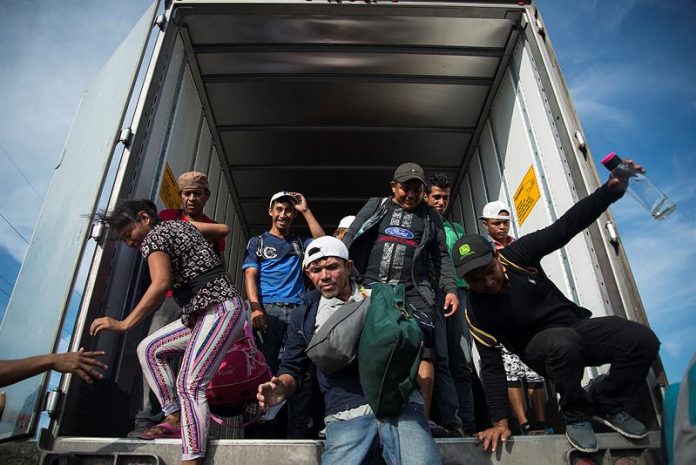 The deputy foreign ministers in charge of immigration issues from El Salvador, Guatemala, Honduras and Mexico agreed today that the flow of migrants registered since mid-October is "unprecedented and atypical," the Mexican Foreign Ministry reported.
The Ministry of Foreign Affairs (SRE) indicated in a bulletin that on Tuesday a working meeting took place among the deputy ministers in order to address the state of recent migratory flows of Central American citizens, exchange perspectives on the subject and agree on a course of joint and immediate action.
"The deputy ministers agreed that the flow registered from mid-October to date is an unprecedented and atypical flow of migrants," the SRE reported.
Therefore, he added, the delegates pointed out that the phenomenon "requires special attention on the part of governments to guarantee respect for their human rights, provide humanitarian assistance, while maintaining a safe, orderly and regular migration and with attachment to the immigration laws of each country. "
"The four countries agreed to deepen and speed up the exchange of relevant information to address the peculiarities of the unprecedented migratory flow, and stressed that the actions that States undertake will be based on the principle of shared responsibility," the Mexican agency said.
In addition, the deputy foreign ministers reviewed the measures adopted for the attention of the Central American nationals in each country, evaluated the current migratory policies and exposed the resources that Mexico, in particular, has made available to offer the recognition of refugee status to migrants
They also shared information on coordination actions with civil society organizations, different government orders and international organizations that have accompanied Mexico since the beginning of the phenomenon, as is the case of the support provided, at the request of the Mexican Government, by the United Nations High Commissioner for Refugees (UNHCR).
They confirmed the commitment to continue working in a coordinated manner, through different mechanisms such as the Consultation Group of Consulates of the Northern Triangle of Central America and Mexico in the United States (TRICAMEX), and maintain close communication on the evolution of the migratory phenomenon in the region.
They also reaffirmed the will to continue promoting programs to promote development and generate roots in the countries of origin, and stressed the importance of deploying information campaigns that reflect a realistic vision of the risks that irregular migration entails and inform of the advantages of Migrate in an orderly, regular and safe way.
Mexico in particular reaffirmed its commitment to continue working jointly with the governments of the countries of the Northern Triangle of Central America to address the structural causes of migration through actions that promote economic and social development in the region.
The meeting was chaired by the Mexican Deputy Foreign Minister for Latin America and the Caribbean, Luis Alfonso de Alba, and the Deputy Minister for Salvadorans Abroad, Liduvina del Carmen Magarín; Guatemalan Deputy Foreign Minister Pablo César García; and Undersecretary of Foreign Affairs of Consular and Migration Affairs of Honduras, Nelly Jerez.