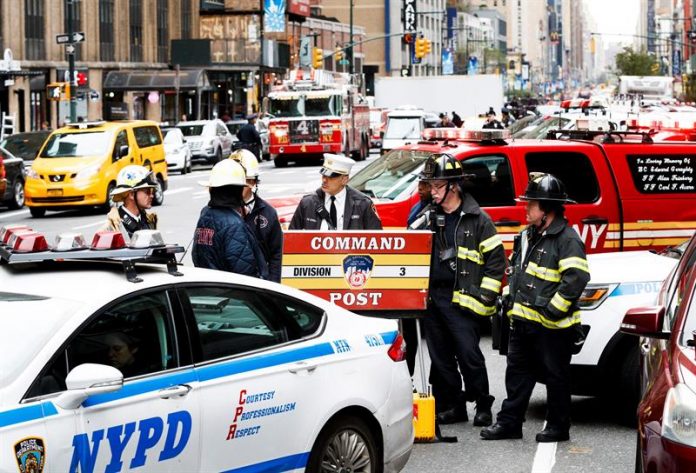 The authorities identified the detainee today by sending a dozen bomb packages to Democratic Party figures such as Cesar Sayoc Jr., 56, and a resident of Florida, NBC reported.
The television network, which cited sources from the security forces, explained that DNA samples were used for the identification process.
Authorities have also seized a white van, full of photos of President Donald Trump, and with threatening images against personalities such as former Secretary of State Hillary Clinton or filmmaker Michael Moore.
Sayoc was a resident of the town of Ventura, in the state of Florida and, according to his Linkedin page and accounts in social networks, was dedicated to the entertainment industry.
According to these sources, his grandfather was of Filipino origin and was a surgeon in the United States, where he was dedicated to operating the facial features of Asian people to make them look more Western.
Investigations of the bomb packages sent this week are now focused on South Florida, where Sayoc was arrested in the town of Plantation.
Today a package, similar in appearance to those sent to Democratic politicians and critics of Trump, was found in a post office in Opa-Locka (Miami-Dade), addressed to Senator Cory Booker.
Local media reported that it is the same office from which the other packages were sent to Democratic personalities and to the CNN television network.
Since Monday, there have been twelve suspicious packages sent to Democratic personalities in the country, in what the authorities have described as "terrorism".
Among the recipients are Clinton, former President Barack Obama, former Vice President Joe Biden, actor Robert de Niro and investor George Soros, among others.
The authorities are now trying to determine whether the devices were designed to explode or if they were simply sent to sow fear, since none of them came to detonate.
The FBI confirmed on Thursday that the democratic legislator Debbie Wasserman Schultz appeared as sender in the packages sent to the political personalities.
Schultz represents a Florida district in the House of Representatives and, between 2011 and 2016, was the chair of the Democratic National Committee (DNC), the body that runs the Democratic Party.