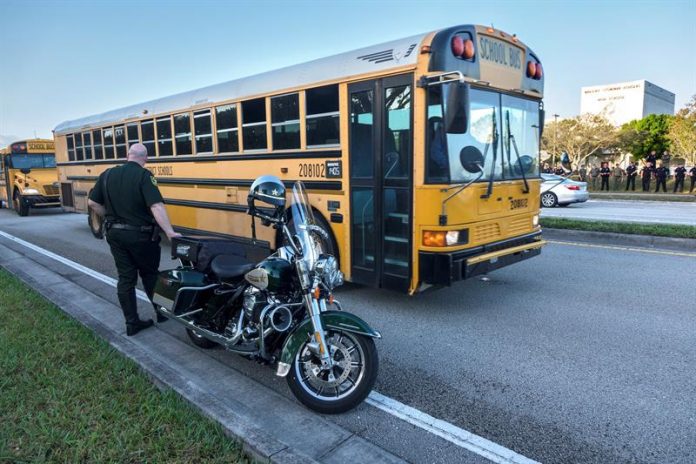 Students at the Marjory Stoneman Douglas High School in Parkland, Florida, where a 19-year-old boy killed 17 people on 14 February, began the new school year today, surrounded by strong security measures that, according to the press, have cost the minus 6.5 million dollars.
Six months after the shooting, the students of this high school returned to the classes to start the new school year, although for many of them it will never be the same again.
The investment of 6.5 million dollars in new security devices includes card readers accessing the facilities, which is carried out through a single point of entry, and a total of 18 monitors, local media reported.
Also, a new state law requires that all public schools have at least one armed security guard.
The Broward County School Board, to which Parkland belongs, has also earmarked $ 5 million for mental health services and the manufacture and distribution of ID cards for students, staff and visitors.
"Everyone wants to go back to how things were (before the shooting) or as close as possible," Local Police Captain Chris Mullinga told Local 10 News Channel.
But there are students who are still far from feeling that everything has returned to normal.
The 15-year-old Venezuelan student Anthony Borges, who was seriously injured in the killing at the Marjory Stoneman Douglas Institute, said on Tuesday he will not return to class this year.
In an interview with the Local 10 News channel, Borges explained that he does not feel ready to return to the school where the shooting took place that cut off the lives of 14 students and 3 teachers.
Borges received five shots on the day of the massacre when he blocked the door of a classroom with his body to protect other students from the attack of Nikolas Cruz, 19, the confessed author of the shooting.
"I'm not ready to go back because (the school) is dangerous for everyone, nobody wants to get shot and maybe there's another Nikolas Cruz there," he told the aforementioned newspaper.
Borges has undergone surgery several times to recompose his intestines and a leg destroyed by the shots, although he will probably have to go through the operating room again.
Student Jaclyn Corin, 17, who lost a friend and partner in the shooting, told NBC News: "In the end I do not feel safe in high school because I do not feel safe anywhere."
On February 14, former student Nikolas Cruz entered the armed educational center with a semiautomatic rifle AR-15 and killed 14 students and 3 teachers, in addition to leaving a score of wounded.
Cruz is currently detained in a Broward jail in southeastern Florida, without bail and faces 17 first-degree murder charges for which he could be sentenced to death.