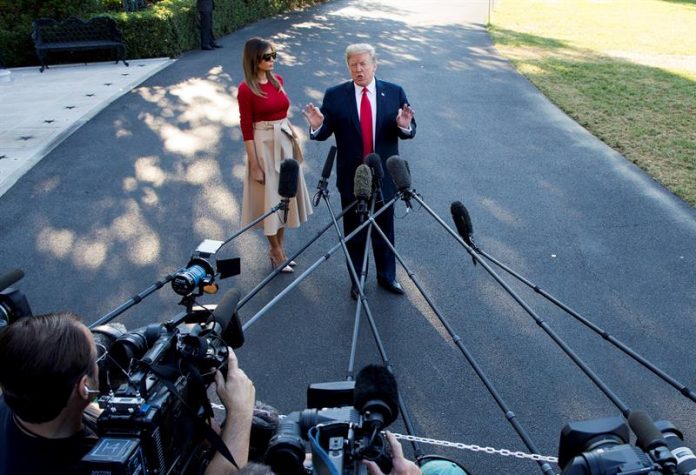 US President Donald Trump said today that the meeting with his Russian counterpart, Vladimir Putin, scheduled for July 16 in Helsinki, may be "the easiest of all" that he will have during his tour of Europe, where he will meet also with historical US allies
"I have NATO, I have the United Kingdom, which is in some turmoil, and I have Putin … Quite frankly, Putin may be the easiest of all, who would think?" Trump said shortly before boarding the presidential plane Air Force One heading to Brussels.
Trump will arrive today in Brussels to participate the next two days in the NATO summit, before traveling to the United Kingdom and concluding his tour on July 16 in Helsinki, where he will meet with the Russian president.
Asked if the Russian president is a friend or an enemy, Trump replied that Putin is "a competitor".
The one in Helsinki will be the first bilateral summit held by the leaders of the two great powers, and will take place amidst intense tensions between Moscow and Washington.
"I think getting along with Russia, getting along with China and getting along with others is a good thing, not a bad thing," Trump added before leaving for Europe.
During his trip, Trump must balance to promote a thaw with Russia without worsening the relationship with its allies in NATO, in a climate of tensions with the European Union (EU) on trade.
In addition, he will travel to the United Kingdom at a time when the Government of the British Prime Minister, Theresa May, is facing a new political crisis following the resignation in the last hours of two of its main ministers, both critical of its plan to negotiate an exit softened of the EU.
In this sense, Trump had words to one of the ministers who has resigned, the until yesterday Foreign Minister, Boris Johnson, who said he is "a friend."
"Boris Johnson is a friend of mine, he has supported me a lot and he has been very kind to me, maybe I will talk to him when I get there," he said.
"It will be an interesting moment in the United Kingdom and in NATO, we will resolve it and all countries will be happy," he concluded.