The space company SpaceX launched last Friday from Cape Canaveral (Florida) a Falcon 9 rocket with a robotic Dragon capsule loaded with supplies for the International Space Station (ISS), which is expected to arrive on Monday.
According to local media not only from the area of ​​Cape Canaveral, but from the counties of Broward and Miami-Dade, more south of Florida, many people called or wrote emails to the newsrooms to warn of a mysterious flying object and strange lights they had seen in the sky before dawn.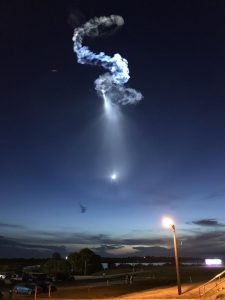 In fact it was the rocket, which was released at 5.42 local time (9.42 GMT), local television channel 10 reported.
It is a mission for the US space agency NASA and both the rocket and the capsule had been previously used, as other devices of SpaceX, the company of businessman Elon Musk.
In the capsule go 5,900 pounds (2,700 kilos) of supplies, which mostly -3,874 pounds (1,757 kilos) – are scientific equipment, according to NASA.
Also on board the capsule is an experiment designed to determine whether cells grown in microgravity can be used as a model to evaluate the effectiveness of some drugs to treat cancer.
Another investigation that will be carried out in this mission has to do with the cultivation of algae in microgravity.