San Juan, Puerto Rico.— For the first time in his 50-year career, Puerto Rican folk music singer-songwriter Andrés Jiménez "El Jíbaro" will perform a multicultural concert titled Andrés Jiménez Regalo de Reyes in the City of Miami, Florida, at the iconic Trail Theater.
El Jíbaro, whose discography spans over 36 productions and has performed in a variety of international venues, will include in his repertoire for this concert several popular songs from various Latin American countries, which will add to his wealth of Puerto Rican folk music offerings.
"We are very happy. This will be my first concert in the City of Miami. We invite all fellow Puerto Ricans and Latin Americans; I know they'll have a good time," said Jiménez.
El Jíbaro stated that in his show in Miami, he will perform décimas by Puerto Rican poet Virgilio Dávila relating to the Three Kings Day [Epiphany] tradition, one that which is deeply rooted in West Indian culture, as well as in many Spanish-speaking countries.
"We have a Puerto Rican folk music repertoire, which has been the hallmark of most of my career, but I also have many Latin American influences from Venezuelan music, from Colombian music, from Argentine music, from the milonga. We'll put on a very traditional Puerto Rican and multicultural concert," said the artist.
During this holiday season, Jiménez has performed at over a dozen events in Puerto Rico and is preparing his anniversary concert Vuelve El Jíbaro a cantar, which already has two dates have in February at the Performing Arts Center in Caguas, a city south of San Juan, Puerto Rico's capital city.
The Andrés Jiménez Regalo de Reyes concert is produced by Fenomenal Entertainment, founded by Puerto Rican cuatro maestro Anthony Rodríguez, known by his stage name Tony Toyán. The idea of bringing Jiménez to Miami came in November, at the request of the audience who attended another concert produced by Fenomenal Entertainment, Encendido Navideño Miami, which featured José Nogueras and Julio César Sanabria, two influential figures in Puerto Rico's folk and traditional music industry. Fenomenal Entertainment produced the long-awaited Andrés Jiménez Regalo de Reyes concert in record time.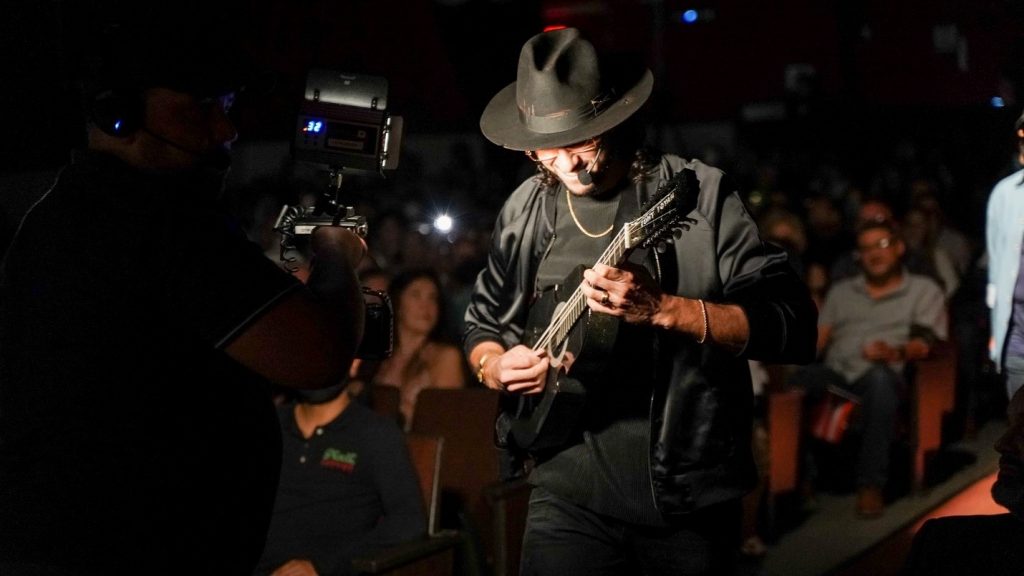 "We are truly honored to bring Andrés Jiménez to Miami for the first time. The audience's reception of these traditional Puerto Rican music Christmas events in South Florida and Miami has been incredibly positive. We hope to continue to offer quality events that will allow us to spread and promote Boricua music to our diaspora, as well as to other audiences. We're sure that this will also help foster closer ties between communities in South Florida and Puerto Rico," said Rodríguez.
"Bring your friends, neighbors, and coworkers; let's show them how beautiful our traditional music is. We hope to see you at the Trail Theater. We'll have a phenomenal time!!" stated the producer and artist.
The event will be held at the Trail Theater, which is an attraction in itself, as a historic building located on Miami's lively Calle 8. The Theater opened in 1930 with a seating capacity of 430 people. The local community – predominantly Cuban – saved it from being demolished and, almost one century after its inauguration, it continues to welcome audiences who love the performing arts.
Rodríguez thanked the Trail Theater's crew, as well as the Andrés Jiménez Regalo de Reyes concert sponsors: CR Insurance Group, CR Medical Services, Chocolate Cortés, and Restaurante 100×35.
Tickets for this event, which will take place on Thursday, January 6 at 8:00 p.m., are available at Fenomenal Entertainment's social media and online at teatrotrail.com. Also calling Teatro Trail at (305) 443-1009.
About Fenomenal Entertainment Fenomenal Entertainment is an event production company founded in the State of Florida by Puerto Rican cuatro maestro Anthony Rodríguez, known by his stage name Tony Toyán. Its main purpose is to promote Puerto Rican traditional music and Latin American artists in the United States.