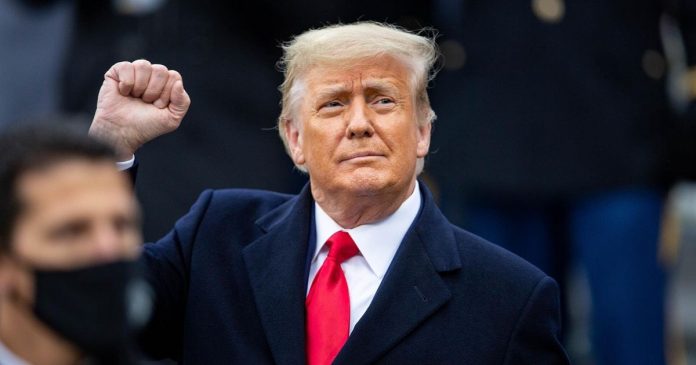 Former United States President Donald Trump has reappeared this Saturday at a rally in Florida in which he defended himself from the prosecution's investigations of his companies, which he considers "are only for political reasons."
"They have mobilized all the powers of the Government to persecute me, my family, my wonderful employees and my company solely for political reasons," Trump asserted during his intervention, according to ABC News.
In this way, the former president has used an election campaign-style rally to ugly the New York prosecutors for having brought charges against the company that bears his name and his financial advisor, Allen Weisselberg.
"It is called misconduct by the Prosecutor's Office. It is something terrible, terrible," Trump has expressed in the city of Sarasota in response to an investigation that has finally concluded with the declaration of innocence of both investigated.
Weisselberg and other executives were accused of receiving perks and benefits, such as free apartments and rental cars, without notifying them correctly on their tax returns.
ELECTORAL FRAUD COMPLAINTS
During his speech, Trump has once again reaffirmed his idea that he lost the presidential election to Joe Biden because of electoral fraud, and has criticized the policies that he has carried out since he took office. position.
Above all, he has disfigured President Biden's immigration policy and the measures he has carried out on the US border with Mexico, something that has been related to the increase in crime.
In addition, he has urged his followers to support the representatives of the Republican Party in the midterm elections, in which this party opts to regain leadership in Congress for next year.
Looking to the future, Trump has raised the possibility of running again in the country's presidential elections, scheduled for 2024. "We are looking at the elections," he said.
However, one of his main rivals may be the Governor of Florida, Ron DeSantis, who in his day was one of Trump's supporters when he served as him as president of the United States.
In addition, Trump would have ignored DeSantis' recommendations to postpone his rally in Florida given the situation in the state after the collapse of the condominium in Surside in which at least 24 people have already died and more than a hundred are still missing, according to CBS News .
The Florida governor now enjoys good popularity in the party for his management of the coronavirus pandemic, so DeSantis now aspires to have Trump's support in the face of his re-election as governor in 2022.