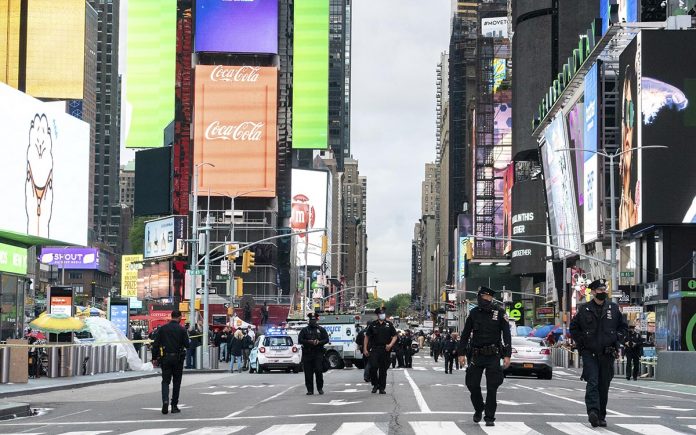 Two other shootings leave three dead and five injured in Baltimore and Florida
Two women and a 4-year-old girl were injured this Saturday in a shooting in Times Square, New York, which has led the police to close the square while investigating the event.
The New York Police officer, Dermot Shea, has indicated that the shooting occurred around 5:00 p.m. local time and several witnesses have indicated the shooting was due to a dispute on the street that involved two or four men, according to CNN.
The injured women, aged 23 and 43 respectively, have been transferred to local hospitals after being shot in the leg. The 4-year-old was also shot in the leg and is expected to have surgery. The three victims are not related and the New York Police have pointed out that they were passers-by at the scene of the events unrelated to the event.
Local media indicate that the Police are looking for several people involved, and among these there would be at least one person who drew a weapon and fired several shots.
The mayor of New York City, Bill de Blasio, has reported that the three victims are stable and has denounced on his Twitter account that "the avalanche of illegal weapons" in the city must be stopped.
OTHER SHOOTINGS IN THE UNITED STATES
This Saturday, there have also been other shootings in the United States that have left three dead and five injured.
In Baltimore, three people have died in a shooting and a fire in a semi-detached house and the Police have indicated that when firefighters and security agents arrived at the scene after the warning of a fire, they found an armed man, according to CNN.
The other five injured have been registered in a shopping center in Miami, Florida, where police have indicated that a fight between two groups of people caused five people to be treated for injuries, three of them with gunshot wounds, according to CBS.
A month ago, the president of the United States, Joe Biden, affirmed that the armed violence in the country is an "international shame" and announced a battery of measures to address the increase in these episodes.