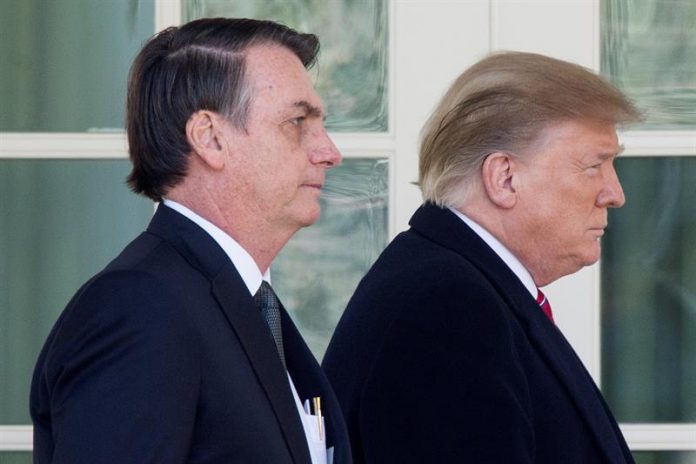 Washington, Brazil .- President of Brazil, Jair Bolsonaro, did not rule out today that he could support a possible military intervention in Venezuela, after his counterpart, Donald Trump, said that the two kept "all options on the table" and threaten toughen sanctions on that country.
"I think I can speak for both countries: all options are on the table," Trump said during a meeting with Bolsonaro at the White House.
President Trump responded to the question of whether he would like Brazil to become involved in a potential US military intervention in Venezuela, even though Brazil's vice president, Hamilton Mourao, said in February that "the military option was never an option" for your Government
Bolsonaro gave an ambiguous response on the issue at the press conference following his meeting with Trump, when a reporter asked him if he would allow the Brazilian territory to be used to launch a US military intervention. in Venezuela, or if it would involve Brazilian personnel in that operation.
"There are some issues that, if you talk about them, are no longer strategic (…) It's a question of strategy, everything that we discuss here (in private) we will fulfill, but of some possibilities it is not spoken in public", Bolsonaro indicated.
Trump took advantage of the press conference to ask the Venezuelan military to "stop supporting (the Venezuelan president, Nicolás) Maduro, who really is nothing more than a puppet of Cuba", so that "his people may finally be free" .
The president did not want to predict how much time will pass, in his opinion, for Maduro to leave power, but opined that "at some point things will change."
"We have not yet opted for really tough sanctions, we can choose hard sanctions, all options are open, so we could do that," Trump warned, and he evaluated the restrictions imposed so far by Washington as "medians."
The president stressed that he knows "exactly" what he wants to happen in Venezuela from now on, but he did not want to specify what it is.
"It's a shame what's happening in Venezuela, death and destruction, hunger, it's hard to believe that one of the richest countries is now one of the poorest countries, so we'll talk long and hard about that" with Bolsonaro, affirmed Trump at the beginning of the meeting. (EFEUSA)