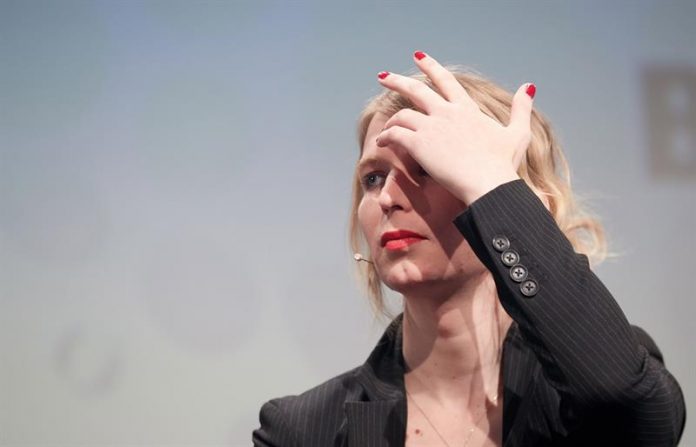 WASHINGTON (AP) – Ex-soldier Chelsea Manning, the first major source of WikiLeaks, was sent to prison Friday after she refused to testify before a federal judge about her release of military secrets in 2010.
Manning, who worked as an intelligence analyst for the US military, will remain in jail until he testifies or until the grand jury handling the case has completed its investigations on WikiLeaks, ruled federal judge Claude Hilton of Alexandria, Virginia.
The hearing was held behind closed doors, except when the magistrate made his decision public, in which he ordered the ex-soldier to be imprisoned for "contempt," local media reported.
Thus, Manning will remain in prison until he "shows repentance or until the court ceases to exist," the judge said.
The ex-soldier appeared today in court to explain why she refused to answer questions about the publication of military secrets nine years ago.
In a statement sent this week, Manning said he also appeared last Wednesday before a "secret grand jury" after receiving "immunity" for his testimony and that he objected to answering questions about the dissemination of information in 2010, about which, he recalled, already offered details before a court martial in 2013.
Manning had been summoned to testify before a grand jury in the framework of the investigation the founder of Wikileaks, Julian Assange.
On January 23, Assange's defense reported that it had presented an "urgent request" to the Inter-American Commission on Human Rights (IACHR), based in Washington, to order the government to disclose the charges filed in secret against its client.
Manning was sentenced in 2013, when she was still known as soldier Bradley Manning, to 35 years in prison as responsible for the largest leak of confidential documents in the country's history.
On May 17, 2017 she was released after seven years deprived of freedom, one fifth of the sentence that had been imposed, thanks to the presidential pardon granted in January of that year by the then president, Barack Obama (2009-2017). ), three days before leaving the White House.
While he was a military intelligence analyst, in 2010, Manning leaked more than 700,000 classified documents to the WikiLeaks portal as secrets about the wars in Iraq and Afghanistan and cables from the State Department, which was a setback for US diplomacy and fueled a debate about the Washington's role in the world.
Obama commuted the sentence to Manning, because in the trial, which ended in the summer of 2013, he assumed responsibility for his actions, said he regretted having leaked the documents and attributed his crime to his innocence (22 years) and his problems because his homosexuality was badly received during the military discipline. (EFEUSA)