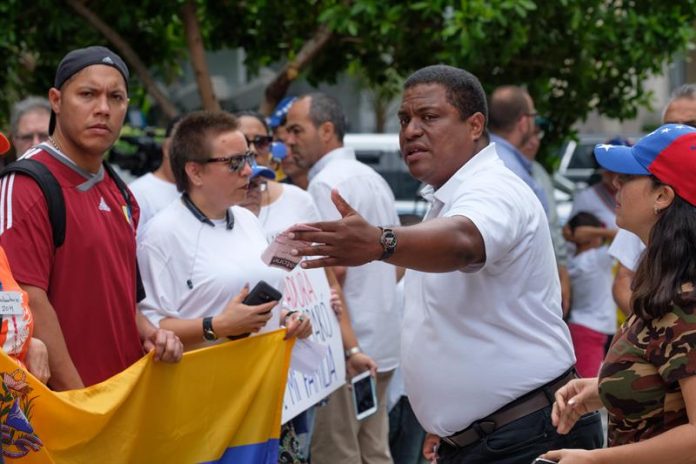 Miami, .- A Venezuelan exile organization requested that the funds raised by the sale of goods of the Venezuelan national treasurer Alejandro Andrade, sentenced to 10 years in prison in the US, be handed over to Juan Guaidó, recognized as president in charge of the American Government.
In the petition sent to the US authorities this weekend, the Organization of Venezuelan Persecuted Politicians in Exile (Veppex), based in Miami, requests that the "resources and funds raised by the sale of the properties" of Andrade be placed in a trust in the name of Guaidó.
The document sent to the Prosecutor's Office and judge in charge of the case also requests that the Supreme Court of Justice of Venezuela (TSJ) be notified in exile; Carlos Vecchio, representative in the USA of the Venezuelan opposition leader, and Gustavo Marcano, who fulfills the functions of minister counselor in the United States.
In addition, a "fiscal and accounting audit" is requested for the court and the prosecutor to report the funds that correspond to the opposition leader and these are deposited in his name, according to the court or the prosecutor.
Andrade, former bodyguard of Hugo Chávez and resident of Wellington (southeast Florida), confessed as part of the judicial treatment that received bribes for the equivalent of one billion dollars from Raúl Gorrín, owner of the Venezuelan television channel Globovisión, and others involved in a plot of money laundering and corruption.
In the document presented to the Prosecutor's Office, Jose Antonio Colina, president of Veppex, states that his organization "does not represent Guaidó as a government, but rather the interests of the entire Venezuelan people."
"This request does not hinder the political management on the part of President Guaidó, but on the contrary, awakens awareness of a group concerned and occupied by defending the interests of an oppressed country and a victim of corruption that bleeds the homeland," explains Colina.
When he was national treasurer, between 2007 and 2010, Andrade received money in exchange for awarding favorable foreign exchange rates, according to the US Attorney's Office. in a statement the day he was convicted by Judge Robin L. Rosenberg.
Of the three defendants in the US by this plot, only Gorrin, who resides in Venezuela, has not been tried, but the US Treasury it sanctioned it economically the past 8 of January next to other presumed implied in a network of corruption that obtained more than 2,400 million dollars with the illicit use of the Venezuelan exchange system.
Last week, an auction of 14 jumping horses belonging to Andrade concluded with the sale of all the lots for an undisclosed total price.
That online auction and other planned for the month of April of the real estate and sumptuary property of Andrade were commissioned by the US Treasury. to the specialized company CWS Marketing. (EFEUSA)