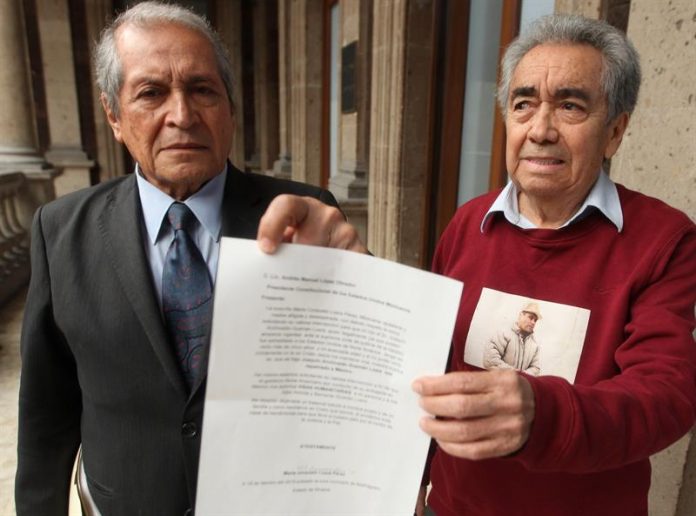 The mother of drug trafficker Joaquín "El Chapo" Guzmán asked for help from the president of Mexico, Andrés Manuel López Obrador, to obtain the repatriation of his son, his Mexican lawyers said Tuesday.
A week ago, Guzmán was found guilty in New York, United States, of 10 counts as responsible for the drug cartel of Sinaloa and could be sentenced to life imprisonment.
The request of María Consuelo Loera Pérez was addressed to López Obrador through a letter in which she explained that she has "more than five years without seeing him" and that she was extradited to the United States illegally.
In addition, she asked the United States Government to request the authorization of humanitarian visas for her and her daughters Armida and Bernarda Guzmán Loera.
"The lady is almost 90. She was going to offer a press conference in the city of Badiraguato (Sinaloa State), but she felt bad and returned, but she handed us the letter," explained lawyers José Luis González y Juan Pablo Badillo at a press conference in Mexico City.
Last Friday López Obrador visited Badiraguato, in whose town of La Tuna was born Joaquín Guzmán Loera in 1957.
Both representatives explained that both the mother and the sisters of the Chapo will be in the next days in Mexico City to appear at the US embassy.
A week ago, after hearing the verdict of the jury in New York, Mexican lawyers said they will seek before international courts to declare the nullity of their trial in the United States to consider it "illegal."
González and Badillo argued that the transfer of the drug lord to New York in 2017 was outlawed, given that the extradition was only authorized for courts in California and Texas.
Badillo said that they will argue that "this trial is null and void" before the International Court of Justice of The Hague and the Inter-American Court of Human Rights, in addition to exposing this situation to the High Commissioner for Human Rights of the UN and Amnesty International .
For his part, Gonzalez lamented that Chapo has only received a visit since he was extradited to New York.
Both lawyers explained that they will travel to New York soon to meet with the inmate and discuss their legal situation.
Chapo's defense during this trial, which lasted three months, announced that he will appeal the condemnatory sentence against the drug trafficker, who was extradited to the United States on January 20, 2017. Mexico, (EFE).