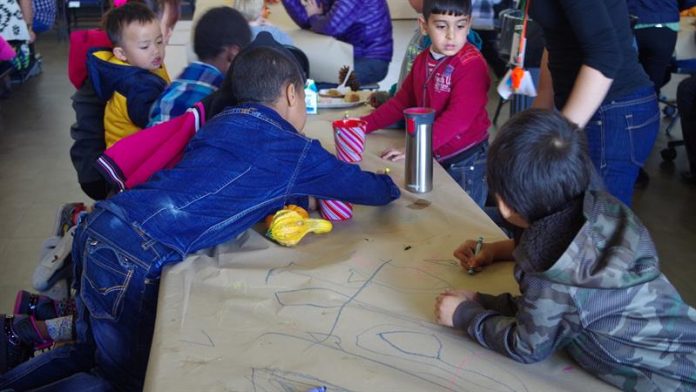 A delegation from the Hispanic Caucus of Congress, led by its president, Joaquín Castro, visited the largest detention center for undocumented immigrants under age in the country, located south of Miami, and promised to do everything possible to get them together as soon as possible with their relatives.
"All this is part of a system (immigration) broken and morally bankrupt," said the Democrat Castro, who was accompanied by Congressmen Debbie Mucarsel-Powell, Sylvia Garcia and Donna Shalala, the same party.
After the visit to the center, Castro, whose brother, Julián Castro, has announced that he will seek the Democratic presidential nomination, charged against the immigration policy of President Donald Trump, and stressed that the Administration should honor its "responsibility to reunify these migrant children with your loved ones".
He also criticized that private companies, such as CHS, which operates the center of Homestead (south of Miami), take economic advantage of housing immigrant children.
These children "are not invaders", but children who "have left their countries behind and entered a nation like the United States" that has been for generations "a safe refuge and a country of opportunities," said the Texan congressman.
Mucarsel-Powell, of Ecuadorian origin, said in a press conference at the doors of the Temporary Shelter, as it is officially called this detention center, that the "Congress will do everything possible to get these children together with their families."
The Democratic representative from Florida said that what she has seen inside the center "are not criminals, nor gang members, but children with hope" to whom "this country welcomes".
Visibly moved, Mucarsel-Powell, first congressman of South American origin, wanted to send a message to President Trump: "What I did not see (in the detention center) were criminals … I saw only children full of hope," he said. containing the tears.
He added, and more calmly: "Excuse me, but I have children, with similar ages, and it is very hard", but said that "these children will be reunited with their relatives".
The congressmen expressed alarm over the Trump government's intention to increase the reception capacity of the 1,600 to 2,300 or 2,400 children center, a matter that has "serious moral and educational implications," Congresswoman Shalala said.
"We want the children to leave as quickly as possible" of this detention center, said Shalala, who refused to establish any kind of difference between the refugees that host this country and these children who "escape the same kind of horror."
Mucarsel-Powell also said that she was also very concerned about the fact that 75% of the minors held there are boys and the remaining 25% are girls.
"As a mother of a boy and a girl, I know that the needs of boys and girls are different" and, therefore, we want to "enter and see not only how they are being treated, but above all what is the reunification plan of these guys with their relatives, "he said.
Mucarsel-Powell called for the immediate implementation of a "reunification plan" for minors held with their families.
"The only problem for these children is that they do not have papers to enter the United States," and that's why "we need an action plan," he added.
In this context, Castro made it clear that this is a "very important issue for Congress" and criticized the idea of ​​expanding the capacity of the Homestead shelter to welcome at least one thousand more immigrant children.
The Texas legislator gave a brief description of the facilities, the distribution of children, and said that "we have to do a better job in terms of treating infants."
Congresswoman Sylvia Garcia was very concerned about the "education and instruction" that the children receive in this detention center.
Because of his professional knowledge as an ex-prosecutor, Garcia expressed doubts about the legality of having these children "who have not committed any crime locked up here."
"There is no reason for that," said the congresswoman for the state of Texas.
Homestead's temporary home currently houses at least 1,600 undocumented minors as part of the "zero tolerance" policy on illegal immigration by President Donald Trump. Miami, (EFEUSA) .-