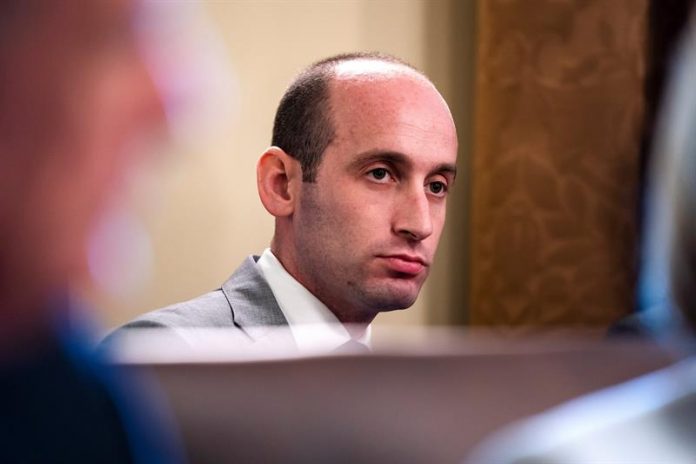 US President Donald Trump "will protect" the national emergency, said White House adviser Stephen Miller on Sunday, who did not rule out that the president vetoes a possible action by Congress to block his decision.
"Obviously, the president will protect his declaration of national emergency," Miller said during an interview on the "Fox News Sunday" program.
The official, asked about the possibility of the presidential veto, insisted that Trump will protect the measure with which he intends to raise almost 8,000 million dollars to erect some 376 kilometers for the border wall.
For Miller, the fact that they are talking about a resolution of disapproval "shows that this is a legal issue" and insisted on the reasons put forward by the president, who has described the situation on the border with Mexico as a "humanitarian crisis". .
"This is a threat in our country, not abroad, not in Belarus, not in Zimbabwe, not in Afghanistan or in Syria or Iraq, but here, and if the president can not defend this country, then he can not meet this constitutional oath of office, "he added.
Of the total amount that Trump aspires to collect, 1.375 million dollars will come from the budget law approved by Congress and recently signed by the president, which will allow to avoid a new paralysis of the Federal Administration like the one that the US He lived for 35 days between December and January.
The declaration of "national emergency" seeks Trump to add another 6,600 million dollars, by diverting them from budgetary items already approved for the Pentagon and the Department of the Treasury.
It also opens the possibility for the head of state to turn to an undetermined number of reservists of the Armed Forces to collaborate in the "emergency construction" of his wall, as revealed in a letter sent to Congress.
In announcing the national emergency, Trump acknowledged on Friday that his measure will undoubtedly trigger a judicial battle, because, according to the Democratic opposition, it involves an "illegal" interference in the exclusive power of Congress to determine budgets.
According to lawmakers and experts, everything points to that litigation will last for several months, during which the Trump decree would remain blocked and the White House could not use the funds it has identified to build the border barrier.
Democratic House of Representatives, Nancy Pelosi, and the Senate, Chuck Schumer, have announced that they will fight the measure "in Congress, in the courts and in public," not to allow "the president to tear the Constitution to shreds" .
The opposition, which controls the lower house, plans to push for a resolution to invalidate Trump's declaration, but the president could veto it unless the legislators meet a majority of more than two thirds in both houses. (EFEUSA) .-