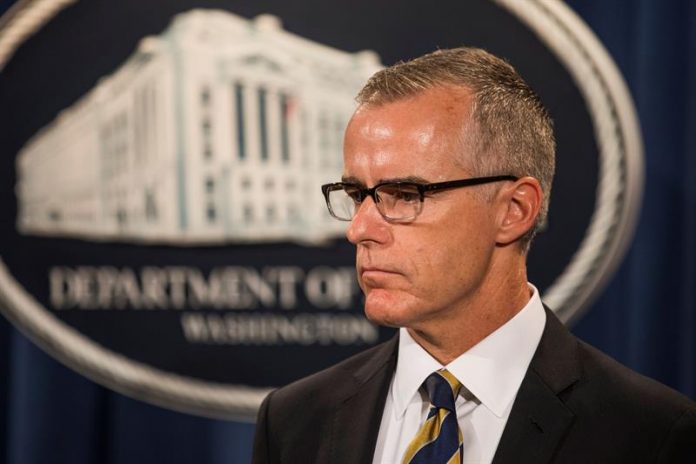 Andrew McCabe, the former interim director of the FBI, said in an interview issued today that in 2017 he ordered investigations into the possible obstruction of the justice of the president, Donald Trump, for fear of being fired before the investigation into the Russian plot went ahead .
McCabe also confirmed that there were talks in the Justice Department about the possibility of activating the 25th amendment of the US Constitution to remove Trump from power for "incapacity", after the president fired the FBI director, James Comey, in May 2017
When Trump expelled Comey from the Federal Bureau of Investigation (FBI), McCabe, who until then was the "number two" of the agency, was very concerned about the possibility that the president tried to end the incipient investigation into the alleged interference of Russia in the 2016 elections.
"I was very worried about being able to leave the case on Russia on an absolutely consolidated basis, in an indelible way, so that if I relocated quickly or they fired me, the case could not be closed or made to vanish without a trace," McCabe said in a statement. interview with the CBS News station that will be broadcast on Sunday.
McCabe corroborated thus, in an extract from the interview released today, the press reports that, after the dismissal of Comey, the FBI began to examine whether Trump was trying to obstruct his independent investigation on Russia, which thereafter went to hands of special prosecutor Robert Mueller.
The Justice Department ended up firing McCabe in March 2018, and he denounced that his expulsion was an attempt to discredit him as a witness in Mueller's investigation, which allegedly delivered a series of notes he took after his contacts with the president.
Trump reacted with fury today to the McCabe interview, saying that this "discredited" ex-officer "pretends to be a 'poor little angel' when in fact he was a great actor" in the "fraud" of the Russian plot, "a filtering puppet James Comey "and a figure similar to the excandidata Democrat Hillary Clinton.
"McCabe's wife received MANY DOLLARS from the people of Clinton for her campaign, and he turned a blind eye to Hillary, McCabe is a disgrace to the FBI and a shame to our country, MAKE THE UNITED STATES BIG AGAIN!" , tweeted Trump.
In a part of the interview that will be aired on Sunday, McCabe also confirmed, according to CBS, that there were talks at the Justice Department about the possibility of meeting Vice President Mike Pence and a Cabinet majority to activate the twenty-fifth amendment of the Constitution and expel Trump.
According to McCabe, the "number two" of the Department of Justice, Rod Rosenstein, even offered to take a hidden tape recorder to his meetings with Trump to obtain evidence against him.
The Justice Department today dismissed McCabe's statements as "imprecise", affirming in a statement that Rosenstein "never authorized any recording" or believes there is "any basis to invoke the twenty-ninth amendment." (EFEUSA) .-