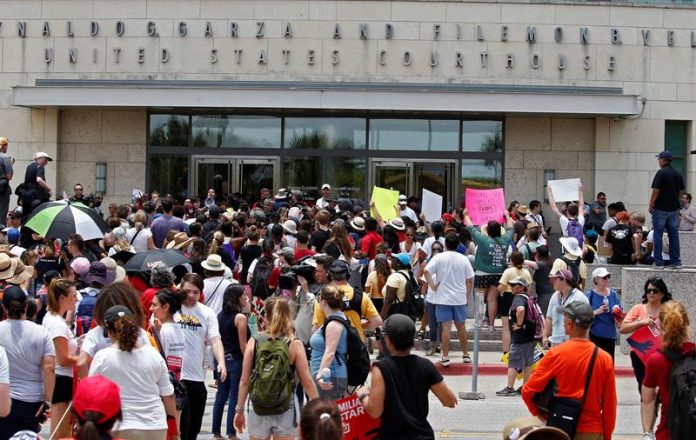 Los Angeles At least a thousand migrants received notice of appearance (NTA, for its acronym in English) to appear today in front of an immigration court, but turned out to be false, warned Efe the American Association of Immigration Lawyers (AILA).
Immigration lawyers around the country warned that they received notifications to appear with their clients to the court this January 31, but when they tried to confirm the dates with the courts they realized that the names of their clients were not in the list of hearings .
Upon discovering this anomaly, AILA issued an alert advising its members to confirm the dates of appearance before going to court.
The Immigration and Customs Enforcement Service (ICE) today issued a statement in which it indicated that the partial closure of the Administration for 35 days generated problems that led to an "unexpected overflow" of individuals who could appear in the immigration court. today.
The incorrect notices would have originated after the changes in the issuance of the NTA, which were previously sent with a date to be determined and that now must have an exact date, by order of the Federal Supreme Court.
The problems covered the courts with greater delays, such as California, Texas, Chicago and Miami, among others.
Laura Lynch, an adviser to AILA, said that they received more than 1,000 reports of false summons. Immigrants with cases in Atlanta, Los Angeles and Chicago were among the most affected.
Some 3,000 cases were supposed to be reported today, in Los Angeles 800, and in Chicago the number could not be counted due to the cold storm that forced the closure of the immigration courts.
In San Francisco, lines of people with citations surrounded the court building, Lynch warned.
The counselor highlighted many of these immigrants had to travel hundreds of miles to meet the appointment and not be exposed to a possible deportation order in absentia.
"This is another example of how immigration courts have proven they are incapable of doing justice and abiding by the rule of law," Lynch added.
But this case is not new, and in the past even some immigrants were cited at midnight or on dates that do not exist, such as September 31.
AILA said it is working together with lawyers to provide assistance to clients and those immigrants who have not yet obtained legal representation and are affected by these false orders of appearance. (EFEUSA) .-