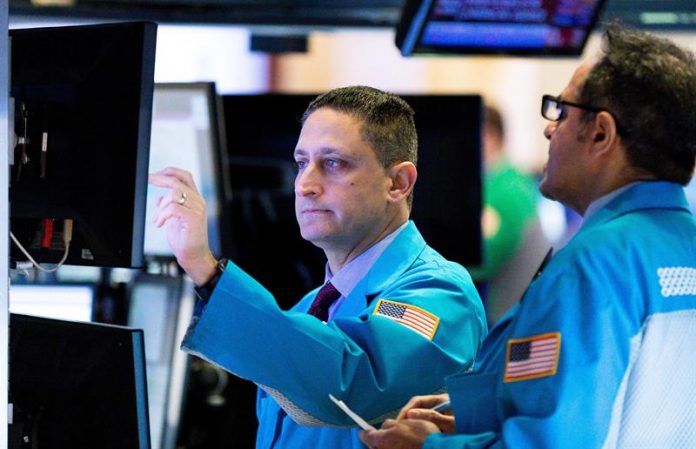 Wall Street retreated on Monday at mid-session and its main indicator, the Industrial Dow Jones, fell 1.48% on a day marked by the corporate data of Caterpillar and Nvidia, which say they have been affected by a slowdown in the Chinese economy .
At the halfway point of the day on the New York Stock Exchange, the Dow Jones was down 365.63 points to 24,371.57, while the selective S & P 500 slid 1.29% or 34.27 points to 2,630.49.
The Nasdaq composite index, which brings together the main technology companies, lost a significant 1.57% or 112.54 whole, to 7,052.33.
Most corporate sectors were in red, led by technology (1.95%), energy (1.72%), communications (1.56%) and industrial (1.57%). Only real estate advanced, 0.56%.
The New York parquet closed last week in green but this Monday was going through a negative day, partly due to quarterly results from Caterpillar that have not passed the analysis and the downward revision of the revenues of Nvidia.
The industrial machinery manufacturer Caterpillar (9.77%), which has been affected by the tensions between the US and China, today reported a worse than expected profit in the fourth quarter of 2018 and underlined a decline in demand from China , which has affected its sales in the Asia-Pacific region.
As for the chip producer Nvidia (which fell 14, 74%), which will report its results in mid-February, estimated that its revenues for the last quarter will be 2,200 million dollars, compared to the 2,700 that were expected, and cited "the deterioration of macroeconomic conditions, particularly in China."
Investors are watching this week for other important corporate results, a Federal Reserve meeting and a new round of negotiations between Washington and Beijing.
Caterpillar weighed in on the group of 30 titles traded in Dow Jones Industrials, with a drop of 9.77%, followed by Visa (2.60%), Verizon (2.59%), Pfizer (2.39%). , Microsoft (2.30%) or 3M (1.91%). Only Johnson & Johnson advanced, a shy 0.17%.
In other markets, the oil of Texas fell to $ 51.52 a barrel, gold rose to $ 1,302 an ounce, the yield of the 10-year Treasury bond fell to 2.733% and the dollar lost ground against the euro, with a change of 1.1436. (EFEUSA) .-