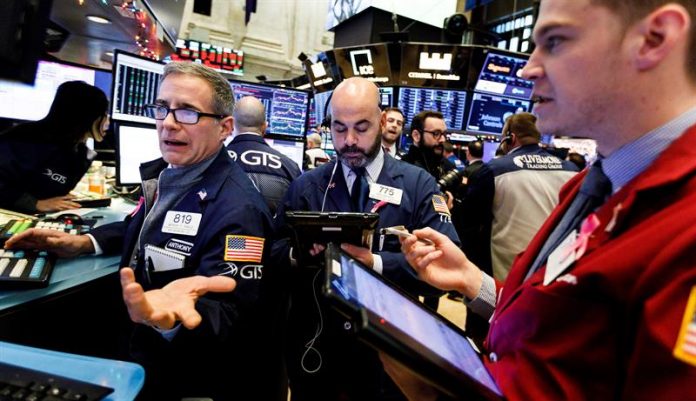 Wall Street increased losses and the Dow Jones Industrial, its main indicator, fell 1.88% in the half session, a cut of more than 400 points after the positive record of the 1,000 points achieved yesterday, which certifies the volatility of the market and concern in the future of investors.
In the half session, the main benchmark was down 429.59 points, to 22,448.86, and the selective S & P 500 was down 1.92%, 47.46 units, to 2,420.24 whole.
The composite index of the Nasdaq market, where the main technological groups are listed, showed a greater decrease, of 2.42%, 158.51 points, to reach 6,395.84.
All the corporate sectors were in red in the half session and the non-essential segment led the losses with a decrease of 2.48%, followed by the communications sector (-3.51%), the energy sector (-1, 97%), technology (-2.05%) and real estate (-1.67%).
The half session on Wall Street thus increases losses after a session yesterday in which the New York Stock Exchange broke positive records as they were not seen since March 2009 and in which the Dow Jones achieved the maximum profit in a single day in its history.
Wall Street analysts blame the return to pessimism and sales to information that US President Donald Trump is considering an executive order to ban US companies from using equipment manufactured by Chinese companies Huawei and ZTE
This at a time when the two most important economies in the world are trying to achieve a permanent trade agreement, following an agreement at the beginning of the month of a 90-day grace period to reach a definitive agreement, which has in vilo to Wall Street.
To all this we must add the concern generated by the sixth day of closure of the US Administration. due to a lack of budget agreement between Democrats and Republicans.
In this context, the group of 30 titles listed on the Dow Jones was in the red zone, with the exception of the corporate Procter & Gamble, which earned a slight 0.02%.
Apple led losses, with a decrease of 3.59%, followed by Microsoft (-2.73%), United Technologies (-2.44%), Exxon Mobil (-2.34%) and Intel (-2%). 01%).
As for other markets, Texas oil fell 2.03% to $ 45.28 a barrel, gold increased its value to $ 1,280.30 an ounce, the profitability of the 10-year Treasury bond was maintained at 2.74% and the dollar lost ground against the euro, with a change of 1.1434. (EFEFUS) .-