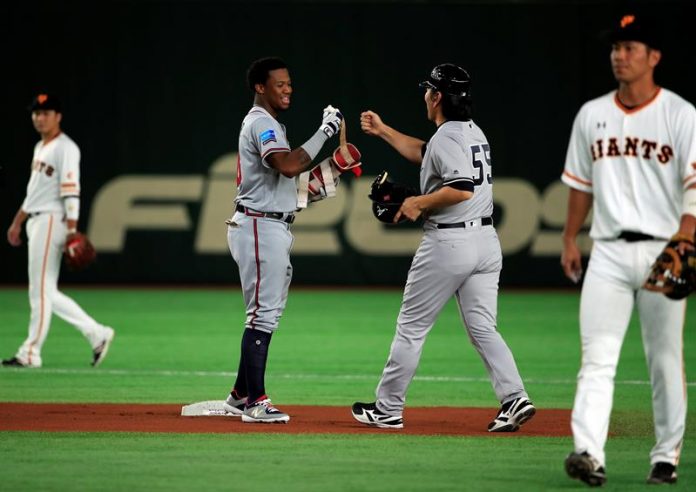 The role of Latin American baseball players continues in Major League Baseball, this time with their participation in the team of the majors that will participate in the Japan Star Series.
Everything is ready in Japan for the twelfth edition of the All-Star Series and the Japanese Professional Baseball League, which started in the 1986 season with the Tokyo Dome, Fukuoka Dome and Osaka venues. Dome
Then, the representatives of the majors won in six games, were defeated in one and the Dominican Tony Peña was selected as the Most Valuable Player (MVP).
From that year until 2006, it was contested every two years, with the exception of the 1994 edition when the baseball players of the Major Leagues went on strike.
After an eight-year break, it resumed in 2014 with the difference that in that edition the then Professional League Commissioner of Japan, Katsuhiko Kumazaki, decided to present the Japan Samurai national team instead of a selection of stars, watching it as an excellent opportunity for blanks in preparation for the 2017 World Baseball Classic.
The Japan Samurai team achieved a game without hits or runs (4-0) that the Asians gave to the stars of the Major Leagues in the third game, to put the duel 3-0 in their favor.
However, the stars of the majors guided by the then Boston Red Sox driver, John Farrell, managed to overcome and win the remaining two games.
It was only the second time that the Japanese managed to take the series. (The previous one was in 1990, 4 games to 3).
This year, the series will have a couple of exhibition games from this Wednesday, November 7 (Japan time) and on Friday, November 9, the first match will be played at the best of 6.
Among the stars of the Major Leagues, for the first time there will be 13 Latin American players, who will represent five different countries, with four Venezuelan players, three Dominicans, three Puerto Ricans, two Mexicans and one Nicaraguan.
The complete list of Latin American players that will participate in the Japan Star Series is the following:
Pitchers: Junior Guerra (MIL-Venezuela), Vidal Nuño (TB-Mexico), Yusmeiro Petit (OAK-Venezuela), Erasmo Ramírez (SEA-Nicaragua) and Héctor Velázquez (BOS-México).
Receptors: Yadier Molina (STL-Puerto Rico) and Robinson Chirinos (TEX-Venezuela).
Boxing players: Carlos Santana (PHI-Dominican Rep.), Eugenio Suárez (CIN-Venezuela) and Amed Rosario (NYM-Dominican Rep.).
Gardeners: Ronald Acuña Jr. (ATL-Venezuela), Enrique Hernández (LAD-Puerto Rico) and Juan Soto (WSH-Dominican Rep.).