With the fight over health care in Congress brewing, Vermont Sen. Bernie Sanders took to the Senate floor Wednesday afternoon to argue against the Republican plan to repeal Obamacare. And Sanders brought with him a visual aid to help make his point: a poster-size print of a tweet from President-elect Donald Trump.
In the May 7, 2015, tweet, which came before Trump announced his presidential campaign, the real estate mogul bragged that he was the first potential GOP candidate to pledge no cuts to Social Security, Medicare and Medicaid — and that former Arkansas Gov. Mike Huckabee had "copied" him.
Donald J. Trump

✔@realDonaldTrump

I was the first & only potential GOP candidate to state there will be no cuts to Social Security, Medicare & Medicaid. Huckabee copied me.
Bernie Sanders

✔@SenSanders

Either Donald Trump lied to the American people or he's got to say that he will veto any cuts to Medicare, Medicaid or Social Security. https://twitter.com/realdonaldtrump/status/596338364187602944 …
Sanders' prop quickly became something of a meme, with Twitter users replacing Trump's tweet with their own messages and others mocking the tactic.
View image on Twitter

Wow I knew @BernieSanders wanted to spook the GOP, but this is completely off the reservation. pic.twitter.com/vYAME7EbYk
— jaydestro (@jaydestro) January 4, 2017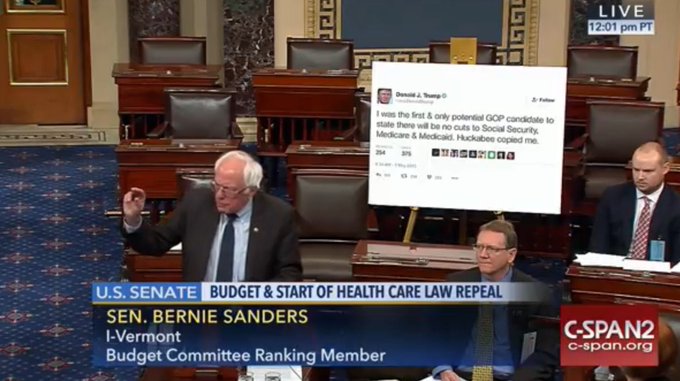 eve peyser

✔@evepeyser

When ur ex tries to deny something but u have the receipts ready to go
Jarett Wieselman

✔@JarettSays

Mr. Sanders. I can just get you a giant screen to project thi…

No. Print it as large as you can and then glue it to a piece of cardboard
Brett LoGiurato

@BrettLoGiurato

Me over the holidays explaining what I do at work
Mike Casca, Sanders' deputy communications director, said Texas Sen. Ted Cruz "chuckled" when he saw the Vermont senator's aide carrying the poster into the chamber. Both Huckabee and Cruz competed against Trump in the GOP primary.
mike casca

✔ @cascamike

bernie is on the senate floor right now opening up debate on the republicans' budget proposal. it's worth your time: https://www.c-span.org/video/?421060-101/us-senate-debate-health-care-law-repeal&live …
mike casca

✔@cascamike

earlier today, sen. ted cruz chuckled when i walked past him carrying this poster. pic.twitter.com/65iAY2106p
Earlier Wednesday, Vice President-elect Mike Pence said that the first priority of the Trump administration would be to repeal and replace the Affordable Care Act, and that the process will begin with a series of executive orders by Trump on their first day in the White House.
"Obamacare has failed," Pence said after a meeting with House Republicans on Wednesday. "Now is the time to keep our promises. Step one will be to repeal Obamacare."
President Obama met with Sanders and other key Democrats to formulate a strategy to block the GOP assault on his signature health care plan.
After the meeting, Senate Minority Leader Chuck Schumer said that Democrats "have a great deal of optimism" that parts of the Affordable Care Act will, in fact, stay, and that Republicans "don't quite know what to do" with their newfound power.
"They're like the dog that caught the bus," Schumer said. "They can repeal, but they have nothing to put in its place."
Schumer also unveiled a tagline that uses Trump's campaign slogan to attack the GOP plan.
"The Republican plan to cut health care wouldn't make America great again," Schumer said. "It would make America sick again and lead to chaos."
Sanders also addressed reporters, and used Trump's 2015 tweet as a reference point.
ABC News Politics

✔@ABCPolitics

.@BernieSanders calls on Trump to make clear to GOP—"maybe through one of his tweets"—he'll veto any bill cutting Medicare, Social Security.
"Trump didn't just say this in passing," Sanders said. "He didn't say it in the middle of the night. He didn't say it in an interview. This was a cornerstone of his campaign. He said it over and over and over again."
Trump, Sanders added, "has got to come forward — maybe through a tweet, one of his tweets — and say clearly that [he] will veto any legislation that cuts Medicare, that cuts Medicaid or that cuts Social Security."